2nd-7th April, 2019: Sarah Cook and I held our exhibition 'Into the Swamp'! It was a success with a total of 248 attendees. From our feedback, almost everyone had never heard about tropical peatlands before, so this was a great opportunity of science outreach and showcasing the importance of tropical peatlands to us all. We were interviewed on BBC Radio Leicester twice, and the whole week was a great learning experience!
28th January – 1st February, 2019: I was invited to take part in the IUCN Sunda Basin Freshwater Fishes Red List Review Workshop held in Singapore. For this we spent the week going through the threatened freshwater fishes across the Sunda Basin; checking and updating their classifications and working on outlining conservation priorities and strategies. It was fantastic to be a part of this process and meet great researchers!
12th November, 2018: I was awarded a British Ecological Society Outreach grant to support my exhibition "Into the Swamp: Stories from the Peatland of Borneo"! This will take place in April 2019, at Newarke Houses Museum in Leicester, UK. More details to follow!
19th October, 2018: My first peer-reviewed article is finally out! Presenting the results of my surveys – the most extensive peat-swamp fish surveys ever conducted –  in the Sebangau peat swamp forest and river. It also presents the findings that fish populations appear negatively impacted by the 2015 peatland fires, which has important implications for local communities dependent on fish for dietary protein. Check it out here: http://mires-and-peat.net/pages/volumes/map22/map2204.php
11th-13th September, 2018: I was at the International Peatland Symposium in Rotterdam presenting my PhD research with the University of Leicester and Borneo Nature Foundation.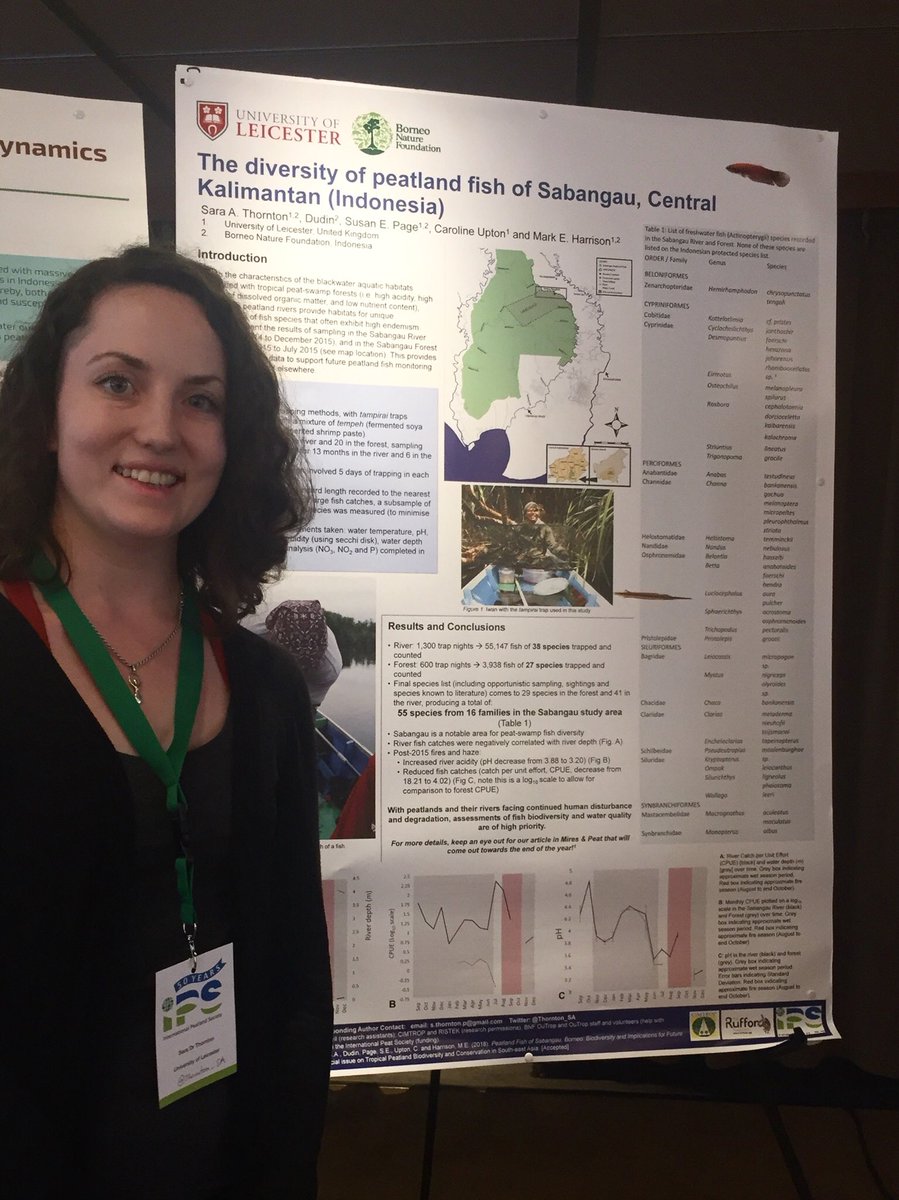 June 27th – July 1st 2018: I was back up at Preston New Road to join the Block Around the Clock to remind Cuadrilla that they do not, and never will have a social licence to frack.
February 14th, 2018: I gave a talk at the Leicestershire and Rutland Wildlife Trust Group meeting – it was a great chance to talk about peatlands, where they are found, why they are important and the threats that they face! Thanks for having me.
January 25th, 2018: I graduated finally with my PhD! What a journey it has been – thanks to everyone who supported me along the way!
https://leicester.stageclip.com/clip/sara-thornton-doctor-of-philosophy/
October 18th and 19th, 2017: I attended a workshop organised by the Borneo Nature Foundation and the University of Exeter to discuss challenges and opportunities relating to fire and other conservation issues in Central Kalimantan, Indonesian Borneo. See the BNF report here.
September 16th, 2017: Keynote speaker at the International School of Hilversum. Photos are available here (photos are by Christel Bisman), and transcript of the speech here. It was a fantastic experience and chance for me to share my passion for peatlands!
July 25th, 2017: Rolling Resistance in Lancashire (Leicester Friends of the Earth)
July 13th, 2017: Grenfell fundraiser blog post (by The Exchange)